Expert Talk on "Artificial Intelligence in Human Resource Management"
November 3, 2022
2023-08-03 15:03
Expert Talk on "Artificial Intelligence in Human Resource Management"
"Artificial Intelligence in Human Resource Management "
In the series of International Expert talks organized by "Centre for Distance and Online Education ", an International talk on "Artificial Intelligence in Human Resource Management" was organized by MRCDOE on 01st October 2022, for UG & PG students. The resource person for the session was Dr. Bahrullah Safi, Vice President International, Acacia University, Arizona, USA. He is Academic Business Consultant at Myracle.io, Berlin, Germany. Dr. Safi is Member of the Editorial and Advisory Board of various International Journals like the International Journal of Management and Technical Research, India, International Journal of Social Sciences and Education, Turkey and International Journal of Open-access, Interdisciplinary and New Educational Discoveries of ETCOR, Philippines.
Dr. Safi gives insights about use of Artificial Intelligence and its scope in Human resource Management. He deeply explained Robotics and Machine Learning, and the use of AI technologies in fortune. The key issues related to AI in HRM is lack of understanding of the effects of AI on the workforce and HRM functions Further, Dr. Safi highlighted the usability of AI in talent acquisition wherein the AI tools could be helpful in enhancing the quality of hiring decisions. The onboarding procedures of employees can also be customized for every single position using AI tools. The speaker also discussed the usefulness of AI in employee training, performance evaluation, enhancing the employees' experience and leadership development. The discussion concluded with a Question and Answer session.
With the promise of a great career ahead, Dr. Bahrullah Safi ended the discussion. A vote of thanks was proposed by Prof (Dr.) Shaveta Bhatia, Dy. Director, CDOE extending a heartfelt thanks to all the participants and faculty members and promised to organize more enthusiastic events in near future.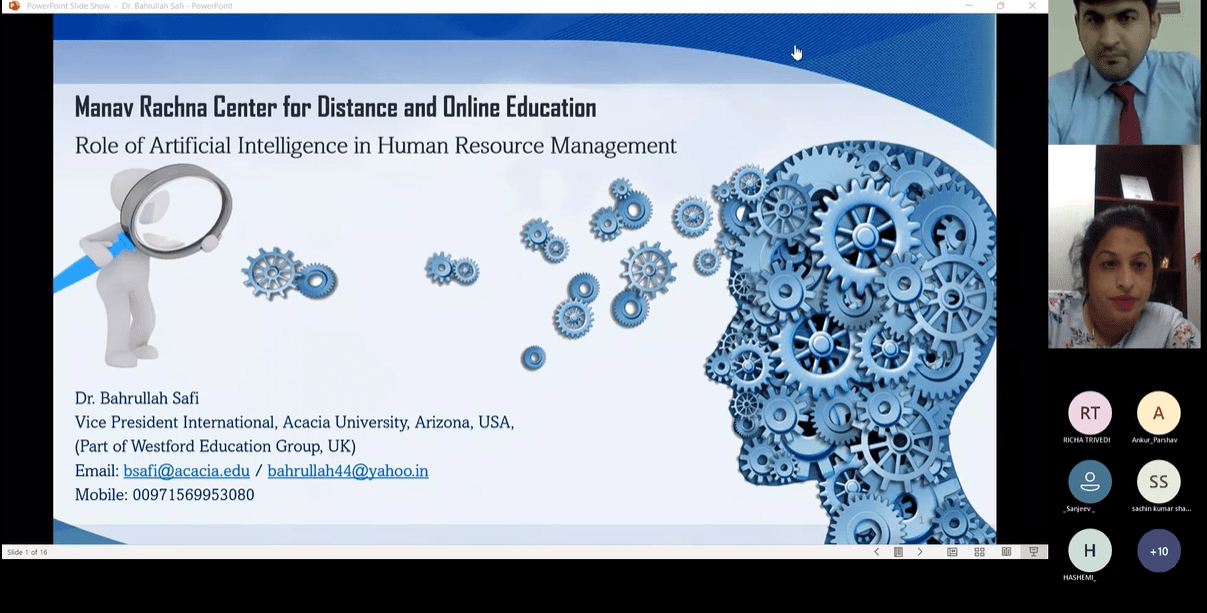 Manav Rachna has launched "Manav Rachna Centre for Distance and Online Education" to provide quality programmes to those students who are not able to draw benefits from conventional system of Education. Students can perfectly reshape their career and future through impeccably designed online programmes. The renowned faculty, cutting –edge advanced curriculum, technology driven and a remarkable content delivery will be helpful in the successfully implementation of online programs.
MREI Campus:
Sector – 43, Aravalli Hills, Delhi – Surajkund Road, Faridabad – 121004, (Haryana), India
Enquiry:
Call: 8822665588